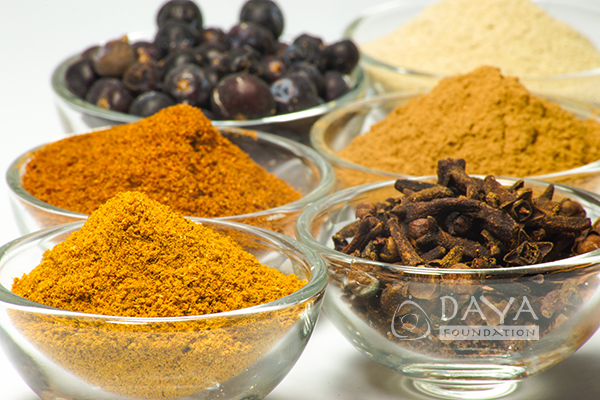 Kichadi: Winter Vata-Pacifying (warming) (also increases pitta and decreases kapha)
½ cup basmati rice (I did not add this to kichadi as we were serving rice separately)
½ cup split lentils, red lentils, or split mung beans
6 cups water
1 TBS ghee
1 tsp cumin seeds
1/8 tsp hing (aesofotida)
1 TBS fresh ginger grated
1 tsp coriander seeds
¾ tsp cardamom seeds
1 tsp black peppercorns
1 bay leaf
2 TBS ghee
¾ tsp cinnamon
¼ tsp ground cloves
1 tsp turmeric
¾ tsp salt
½ tsp ground cumin
2-4 cups fresh vegetables (I used carrots, spinach)
Wash and soak mung beans, 30-60 minutes. Rinse again until the water is clear.
Melt ghee. Add cumin seeds and hing to lightly brown them. Add ginger to gently fry it. Add to rice, mung beans and water. Bring to a boil. Then simmer 45-60 minutes.
Make curry paste: Additional 2 TB ghee. Melt in skillet. Add the coriander, cardamom, peppercorns, and bay leaf. Saute 2-3 minutes. Stir in remaining spices.
Put sautéed spices in blender with a little water (1/2 cup or less) and grind well. You're making curry paste. Pour this paste into mung beans and rice. Rinse blender with water and add this water to the kichadi as well.
Add vegetables and cook another 20 minutes or more.
Recipe for Kichadi: Winter Vata-Pacifying by Sarahjoy Marsh